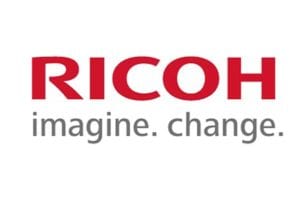 TTS is a converting partner for Ricoh, one of the worlds' most respected manufacturers of wax resin and resin thermal transfer ribbons.

Ricoh has been a leader in the printer and copier market for more than 80 years—all the way back to 1936. The world's first compact, affordable digital office copier was a Ricoh, in 1987. Since then they have been office frontrunners, changing how people work.

TTS are able to offer competitive pricing for slit rolls on any of the following Ricoh thermal transfer ribbon grades: B110A-X2, B110ti, B120E, B130EV, B130ED, B110CR, B110CX, B110C, B110CU, B120EC, B120CG, D110A, D110C. To find out more about the range of Ricoh thermal transfer ribbons we can offer, click here or see below.